THEMUSIC






CURRENTS






SEARCH






cMUSICMAIL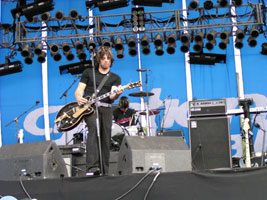 Wrappin' Up - Evening, Saturday June 26th
I am sitting in the "office" section of the campsite as I write the continuing story of the Creation experience. Becca left Agape Farm last evening with a big smile after tobyMac's impromptu press conference. Having recently spotted pictures of Michael and Kevin in tobyMac's online photo album, she inquired about possible tracks with his fellow dc Talk mates on the upcoming album. We saw the creative process formulating in his brain as he described his current ideas on how he'll probably mix the same song with just him, then "do a bonus track and totally recreate the whole song with Michael and Kevin — maybe give it a more dctalk feel."

Today began with the best morning worship I can recall in many years at Creation. The early morning crowd, dragging a bit from the last day of Creation syndrome, still had enough energy to dance during the Rock and Roll Worship Circus set. Later in the day, I asked the man from Morocco which band was his favorite.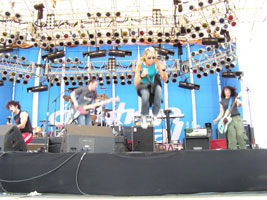 With a big smile on his face, he declared Rock and Roll Worship Circus. After 4 days of music, he is formulating the desired band list in his head for the first Christian festival in his country.

I sat in on the press conference where Paul Colman (Paul Colman Trio) shared about the many changes in his life since last Creation. As I listened to his accent, I realized that today was a day of varied dialects from around the world. Between Paul Colman, his band members who once traveled with The Benjamin Gate, delirious? and the Newsboys, several countries were represented.


The Fringe Stage artists begin at noon every day. I meandered over to the Fringe Stage to catch Telecast, managing to skip all of the tempting yet expensive vendor food on the way. Before the set was finished, I had already declared the new disc I wanted to buy at the BEC/Tooth and Nail merch booth.

Late afternoon brought me to my shift at main stage security.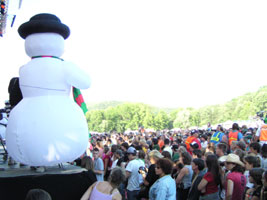 For today this meant missing Thousand Foot Krutch and FM Static on the Fringe Stage. Or was it FM Static and Thousand Foot Krutch? I caught glimpses of David Crowder Band and Relient K as I was making my rounds on the main stage. Relient K began their set with Christmas songs that went hand in hand with the festive blow up Christmas decorations on stage. My shift ended with Josh McDowell speaking a message of challenge to all.


My time at the arena hillside ended with delirious? putting on an excellent set. With scenes from "The Passion of the Christ" playing on the large video screens during "Majesty", I was reminded why we are here at the festival. This is truly a tribute to our Creator.

More Rock 'n' Roll - Afternoon, Friday June 25th
Last night was full of great concerts. Switchfoot drew primarily from The Beautiful Letdown for their exciting set last night, changing songs just enough to keep the audience on their toes (and often jumping off the ground completely). Audio Adrenaline lived up to their earlier promises of eye candy in their show, which featured colored streamers, pyrotechnics, jets of steam, a cowbell performance, a patriotic finale, and plenty of Audio A's renowned audience participation.


For me, today was the "day of the speakers," with Joshua Harris, Bob Lenz and Stephen Baldwin each delivering inspiring messages. Joshua spoke about lust, envy, and how to live a Christian life, while Bob focused on evangelism and compassion towards the world's youth. As a newly converted Christian, Stephen Baldwin's testimony was especially moving, and his obvious passion for youth ministry and evangelism through his Livin' It skateboarding DVD project was exciting. We were also encouraged by his plans to continue work in Christian media, and when we asked about future ventures during a press conference, he mentioned an uncertain project with Jerry Jenkins's son.

On the music front, Big Daddy Weave was unable to make their morning show due to bus problems, but Harry Thomas (the "Big Daddy" of the Creation Festival) covered well with his acoustic worship service and a tee-shirt of the absent band. Hard rock ruled the afternoon when Pillar took the stage, and fans were thrilled when 12 Stones presented several new songs in their show shortly after.
We're currently starting the nighttime acts, which star several big artists. Out of Eden kicked off the lineup, and will soon be followed by new worship rocker Jeremy Camp and TobyMac. Steven Curtis Chapman will conclude the program in whatís sure to be a stirring act with a candlelight service.

Well, thatís all for tonight, and I'm heading home in a few minutes to exchange one showerless, crowded, Christian environment for another at a Group Workcamps mission trip to Ohio. Wish me luck, and be sure to check back tomorrow for the end of the festival from Kim Flanders

In The Trenches - Afternoon, Thursday June 24rd
Hello again music fans, and a big shout out from our reporting duo at Creation. We're having a blast. Last night's headliner, Jars of Clay, blended old favorites with new material from Who We Are Instead for a truly stunning performance. We even had the unexpected opportunity to enjoy further audio sensations, as fellow campers (who shall remain un-named) serenaded us with their snores throughout the night.


Today has been one exciting experience after another. Kim had an encounter with royalty when she bumped into the prince of Morocco, who was checking out Sanctus Real for the festival he'll be hosting. I, on the other hand, was attacked by a group of colored-hair-spray bearing boys, and walked away with a cutting edge green `do. We've both also received generous offers for free hugs from passing guys, which we've politely refused (although the guy with the 4 inch mohawk presented an enticing offer).

On the artist front, we were able to listen in on press conferences with a few top-notch bands, including Skillet, Sanctus Real and Audio Adrenaline, picking up a bit of interesting gossip from the latter. We heard whispers of Audio A's upcoming CD (perhaps to be titled "Victory") and learned why their live shows always include exciting distractions (fireworks, cowbells, etc.) "We don't really qualify as ear candy." Ben explained. "Or eye candy," Mark added comically, at which we had to laugh.


We've also had fun sampling different bands at their live concerts. A handful of new artists began our day as we caught performances by Casting Crowns, Trevor Morgan and Sarah Kelly. Later on we rocked with Skillet and Sanctus Real, who I'd elaborate, but unfortunately we need to wrap things up to stake out prime spots for Switchfoot and Audio A. So, until tomorrow, keep wishing you were here with us. We'd sympathize if we weren't so darned preoccupied trying to get "Meant to Live" out of our heads.

We're Going In - Afternoon, Wednesday June 23rd
For one of the few times in the history of cMusicWeb, two of our staff members have actually managed to meet face to face. Yup, folks, our roving reporter Kim Flanders has joined forces with me, newbie staff writer Becca Tuttle, to bring you live reports from the Creation East Festival in Pennsylvania.


We arrived yesterday afternoon and the enthusiastically painted vehicles have been pouring in ever since with insane numbers of people pouring out in clown-car fashion. The festivities have yet to start, but there's plenty to do while we wait. As is the case with all festivals, the atmosphere alone is a refreshing change from everyday life. To know that so many thousands of Christians are willing to sacrifice real showers, indoor plumbing, air conditioning and personal space to unite and celebrate their faith is awe-inspiring (albeit a bit smelly.) And the people here are wonderful-full of faith and fellowship.

I've had a fun time meeting Kim's many staff and press friends (although after hailing down several passers-by I'm beginning to suspect she knows everyone.)
I've found it even more interesting, however, just to observe the groups around us and how they're keeping occupied. One group we invited us to join an impromptu worship time around the campfire, complete with songbooks, guitars, and makeshift paint can drums. Another group has reportedly built a slip and slide in an attempt to beat the heat and humidity. Some even get creative in decorating their camp sites-we've seen everything from banners to electric light displays.

As for the actual music, well, it starts soon. We kicked off our activity schedule at lunchtime with a press conference with Jars of Clay. For Kim, queen of nonchalance, this was business as usual, but I was excited to get my first taste of the behind-the-scenes action. The official welcome and concert opening is this evening, followed immediately by Kutless, Stacie Orrico and Jars of Clay. So until then, keep us in your thoughts. We'll think of you while we're rocking out tonight.