THEMUSIC






CURRENTS






SEARCH






cMUSICMAIL




Many people come from all over the world to experience GM week. Retailers, press, radio personalities, record label reps, musicians, fans… Anyone is invited, no matter what your involvement in the music scene. The event takes place in April each year in Music City, TN at the RNH, NCC and HS. While attending this year's festivities for the second year, I thought it might be helpful to provide a guide for those with a desire to better understand the experience. (Note: If you did not understand some of the acronyms above, please read on.)

GM Week - Gospel Music Week, also known as Gospel Music Association Week.

GMA - Gospel Music Association, host for GM Week. Music City, TN - Nashville, Tenn-see (accent included there).

RNH - Renaissance Nashville Hotel, one of the two main hotels where most of the action takes place. Home of workshops, showcases, media suites, and more. Many GM Week attendees stay here, including artists.


RNH lobby - place to meet with your friends and colleagues, also home of the RadioU/TVU booth where Obadiah and Nikki do a live broadcast including artist interviews.

RNH bridge - located on the third floor of the RNH, this area is often crowded with all walks of GMA week waiting in line for a bite to eat, named for the walking bridge over Commerce Street that runs from a parking garage to the RNH. (Note: This was also the place where I bumped into Jon Foreman of Switchfoot during his four hour stay in Music City.)

HS - Hilton Suites, about two blocks away from the RNH, this hotel is also home of more workshops and showcases, etc.

NCC - Nashville Convention Center, attached to the RNH and located about a block from the HS, this building houses such activities as exhibit areas, radio booths, cyber café, and more.


Holiday Inn Express - about 5 or 6 blocks from the action, this hotel is a place where poor media representatives and starving artists sleep. (Not a bad place to stay, despite the walk to the main activities. And even the Science Fiction convention party held in a suite across the hall from my room was relatively quiet.)

Fruit Loops - cereal of choice over Sugar Frosted Flakes at the Holiday Inn Express continental breakfast.

Car rental - a normal procedure for travel except when you get stopped for a burned out tail light by a police officer just fifteen minutes from the airport on the way to Sonic for dinner. (The rental car company delivered a new car to the hotel by via a tow truck, which immediately stirred up the Science Fiction party attendees who thought their unauthorized cars were being towed.)

Luggage - most of your packed belongings that arrive to town one day after you arrive.

Wal-Mart - the only place where you can afford to buy one day worth of clothing with the fifty-dollar voucher from the airline. (Note: Too bad the extra new clothes mean less room to take home CD's and other promo material.)

Elevator wait - daily occurrence ranging from one minute (Holiday Inn Express) to fifteen minutes (RNH). (Note: If you want to meet someone "famous," stay on the elevator at the RNH or HS all day.)

Sleep - nightly event that begins upon shear exhaustion soon after 2 AM and ends with the sun rise between 6 and 7 AM, resulting in the glossed over look by the end of GM week.


Starbucks - now served at two locations - near the NCC Commerce Street entrance and by the RNH bridge. (If only I drank coffee.)

Walk - lighted sign at street intersections that translated literally means "run."

Don't walk - lighted sign at street intersections that are sometimes to be ignored if you desire to get to a scheduled interview on time.

Showcase - otherwise known as a concert. Some are held at the RNH and some at the HS, while others are held at various clubs throughout town including Rocketown and Graham Central Station. (Note: Anyone can come into town and for a nominal fee attend many of the evening showcases without attending the GM Week convention.)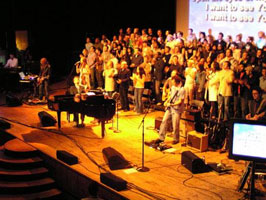 Sunday Evening Worship - evening showcase held at the Ryman Auditorium each year. Led this year by Michael W. Smith, Darlene Zschech, and Peter Furler of the Newsboys with a large choir of musicians, this event is a highlight for many GM week attendees.

Radio Booth - located throughout the RNH and NCC, these rented booths are the location for several radio stations to do live artist interviews from GM week. Often the interview schedule is posted outside each booth. (Note: If you are coming to meet your favorite band, write down the schedules and *cough* walk by the booth *cough* accordingly.)

Opry Mills Mall - place where Third Day Gomers go shopping during the day (Note: These same Gomers attend the evening showcases and GMA awards at night.)


Record Label Media suite - place for media to receive snack food and drink ... oh and perform artist interviews.

Unsigned musicians - artists looking for the big break who are often found handing out CD's and other promotional materials. (Note: I once read that Sanctus Real fit into this category a few years back.)

GMA Awards - formerly the Dove Awards.

Dove Awards - also known as the GMA Awards. (Note: The actual award is still called a Dove.)


Why Hip Hop - an educational campaign initiated during GM week "developed to persuade the Christian community to embrace Hip Hop, the most influential music genre of the day." (www.whyhiphop.com). (Note: I hope we see more of this making its way into church youth groups and radio stations.)

E.R.A.C.E. - my favorite showcase of the week, featuring a musical diversity that sought to celebrate unity. Where else can you see Phil Keaggy on the same stage as Michael Tait? The music was incredible and had me jazzed for the rest of the night. (Note: I did not mind that the showcase went over by one hour, causing me to miss the first forty-five minutes of the next showcase that I attended. For more info on E.R.A.C.E., visit www.erace.com

GMA Awards Highlights:
The Gospel Music Association awards were held at the Grand Ole Opry House in Nashville, Tennessee on April 13, 2005. For more details on the winners and the chance to watch the awards on TV this summer, visit www.gmamusicawards.com.


But for now come in and experience my view of the awards, from an over-crowded press room. These are just a few of the myriad of activities I encountered during the taping of the awards.

Awkward moment near the beginning: Darlene Zschech and Israel Houghton hand motioning for cue cards.

Best presenter combination: Day of Fire and Sandi Patty. I hope they don't cut out any of their interaction for the TV show. Too bad Josh Brown had to hide his tattoos. It would have created a better effect!

Funniest presenter combination: Michael W. Smith and Steve Taylor. Why? Because Steve "directed" Michael on how to open and read the envelopes.


Biggest joy: Hearing the announcement that Switchfoot won the Artist of the Year award, among others.

Biggest disappointment: Finding out that Switchfoot was not there to receive their awards.

Biggest shocker: Building 429 winning the New Artist of the Year award. (You should have heard the sounds of disbelief coming from the media.)

Best news: Jeremy Camp announcing to the press that he is working on some new music for his wife, Adrienne, formerly of The Benjamin Gate.
Biggest smiles: The Crabb Family


Pushing the Envelope: First place: Skillet's performance of "Savior" that led members of the audience running down front to rock out. Second place: Tonéx showing his non-conformity to the masses. (Check out the photo pages for a better understanding.) Third Place: Bart Millard (MercyMe) in a NASCAR uniform. (Once again, check out the photo gallery.)

Best dressed: The jury is still out on this decision.

Words to describe the evening: Diversity and Unity, with a mix of humility and humor.

Best backstage moment: Producer Ed Cash was chatting with the media just after receiving the Producer of the Year award, while Chris Tomlin's Arriving was announced as the winner for Praise & Worship Album of the Year. (Ed produced the album.) Someone caught the announcement on the TV screen and yelled out, "You just won another award!" In amazement, he looked at the screen and said, "Really?"

Cutest couple: David and Nicole C. Mullen.

Fire code violation?: Amount of people crammed into the press room.