THEMUSIC






CURRENTS






SEARCH






cMUSICMAIL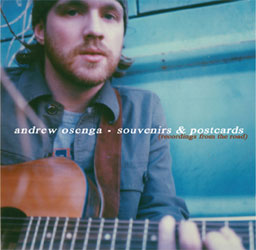 If you attended one of the recent Jars of Clay/Caedmon's Call shows this past year, chances are that you've seen an unfamiliar figure playing guitar and singing backup for the latter band. This unfamiliar figure is none other than Andrew Osenga, primarily known for being frontman for The Normals (who have indefinitely disbanded due to financial restrictions and family responsibilities). Playing in Caedmon's isn't the only thing Andy is up to these days, however. In the last year-and-a-half, he has been busy producing albums in his home studio (dubbed the "Velvet Eagle"), recording a solo album of his own, and using his spare time on the road to craft an EP titled Souvenirs and Postcards. And that brings us to the interview.

You've mentioned that Souvenirs and Postcards is a "little companion" to Photographs. What is Souvenirs and Postcards about, and how does it tie into Photographs?
It's another collection of story songs. Written and recorded in different cities on the last Caedmon's Call/Jars of Clay tour. It's a companion because of the story theme, but it's different in that this one is all acoustic, something I've never done before. Most of the songs really reflect a journey, in different ways, and recording it on tour just felt like the right idea.

Was all of the recording done on tour?
Most of it. One song, "The Letter," was written and recorded in Nashville, but I put it on because it seemed to really fit, both musically and conceptually. The rest of it was recorded all over. I did a few songs in the back of Jars' bus during their sets, 'cause it was quiet there. I did one in my cousin Dean's basement in Colorado. Kind of all over.

Can you tell us what it was like to record on tour?
Well, it was a lot harder to find a quiet place than I ever could have imagined. That was probably the hardest thing. Many times I would set up somewhere, do a couple takes, get one I loved it, and then when I listened to it I'd realize that I could hear an air conditioner louder than my voice, or something else. And the road gets to be a sort of time-vortex, where the day is over and you can't really remember accomplishing anything, the time just slipped away. I had to really fight that black hole and not let it suck me in!

Your website also mentioned that the EP will feature members from each band. How did this contribute to the theme of Souvenirs and Postcards?
Well, on tour you get to know people really well, and they you may not get a chance to see them for another year, kind of like a long Summer camp. Having Charlie (from Jars) play piano on a song, or having Steven Delopoulos (our opening act, formerly of Burlap to Cashmere) sing was a great souvenir.

What are your favorite or "most special" moments on the EP?
I think the song "If I Had Wings..." is probably the most like the sound I hear in my heart when I'm quieting down. It's a short song, not a lot of words, but to me, it just FEELS the way I wanted this thing to feel. And hearing Steven's voice come in and singing what he does ("I've forgotten what I need the most, the Father, Son and the Holy Ghost...") just chills me every time. Very special.

Over the last year, you've set up a studio in your house and done some producing. What has this experience been like, and how has it changed your perspective on music?
It's been great, because I get to keep doing different things. I get to tour and play big places with Caedmon's, I get to do little coffeehouses and churches by myself, and then I get to sit and work on a couple of records a year in the Velvet Eagle. I don't get bored, and musically, that's really helpful. Realizing how to get a guitar part to work on a record helps me have a better idea of how to approach Caedmon's stuff live. There are a lot of small things I've learned from one aspect of my career that I can apply to another and that's exciting. I feel like the better producer I am, the better guitar player I'll be, the better my songwriting, the more I understand how I want something to sound when I'm engineering. It's fun.

Before I (finally) shut up, what's in the future for Andrew Osenga after this EP and the tour with Chris Mason?
I'll be traveling to India, Brazil and Ecuador with Caedmon's in March and April, and I'm really excited about that. We'll be doing some recording for their next record there, and I'll be contributing a lot of songwriting to that project. They have a greatest hits coming out in April, and we put two new songs on it, one of them, "A New Day," I wrote for the band regarding what we've been learning about India, and I'm excited for people to start to hear my contribution to the band.

Until we go on that trip I'll be co-producing a Christmas project for Andrew Peterson. We just started last week and I think it's just going to turn out great.

Check out our reviews of Andrew's releases here at cMusicWeb.com and visit his official site for further information on him and his various projects.