THEMUSIC






CURRENTS






SEARCH






cMUSICMAIL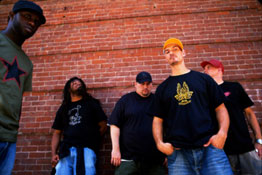 Round about 2002, while L.A. Symphony was working on a nine-song EP (Baloney, their follow-up to 2000's Broken Tape Decks), they were also falling apart. Pigeon John, a long-time member and key player in the L.A.S. collective for many years, had branched off into a solo career that was occupying most of his time. J Betis and bTwice—both crew members since L.A.S.'s inception—had, according to surviving member Joey the Jerk, simply lost their passion for the California-bred crew's music. Then, in mid-2003, came the announcement. "L.A. Symphony has actually downsized recently," Pigeon told the Sphere of Hip Hop. The three were no longer active members of the group. "We're still a part of the L.A. Symphony family," he insisted, "but won't be playing as active of a [role] in the group."

Their role on Baloney was minute—according to Joey, the three were really only guests on an album that was put together mainly by he and four other members (producer FLYNN and emcees UNO mas, Cookbook and Sharlock Poems). For the most part, the split seems to have been amicable. "It's all love," insisted Cookbook in an interview with cMusicWeb.com, "and we're all family." Says FLYNN, "We have open arms to them when and if they want to be a part of the creative process."

But Joey drops hints that paint a different picture. Asked why the three decided to leave, he's blunt and candid. "I would guess, for John his passion is Pigeon John. And I'm guessing it wasn't worth it for him to sacrifice that a little for L.A. Symphony. For J Betis I guess he just wasn't into it anymore. Same for bTwice."


At any rate, the crew survives and hasn't missed a beat. The recently departed won't be replaced, but neither, frankly, will they be missed. "We do the music the way we always have," says Cookbook. " Not everybody is on every L.A.S. song anyway, so it's not much different than the way we've been doing music."

As their creativity continues, they straddle two worlds. Their latest album, The End is Now, was released on both Basement Records, a secular underground label, and Toby McKeehan's Gotee Records. According to the group, the reason is simple: Gotee understood the CCM market and Basement didn't. The reverse seems to be true as well. Two of the songs that appear on the Gotee version—"Heeve Ho" and "Charlie Brown"—don't appear on the mainstream edition because, says FLYNN, "Basement felt those tracks were not good for their niche market."

As a fixture in Southern Cali's underground hip-hop scene, and veteran players in the CCM game as well (they produced two albums for Squint Entertainment), L.A.S. understand both of these spheres. They've opened for mainstream acts like Jurassic 5 but also play some of the big Christian summer festivals. They're family-friendly enough to get played on Christian radio (and to insist, in interviews with Christian publications like this one, that music is "God's call" on their lives and that they're not in it for a profit), but keep the Jesus-per-minute count at zero to make crossover success a possibility. They no doubt pleased Gotee by allowing labelmate Paul Wright to re-mix the debut single from The End is Now, but have connections deep enough in the secular world to borrow production help from the likes of will.i.am (of Black Eyed Peas fame, who contributed to a song on Call it What You Want, an album made for Squint that has yet to be released).

In short, these are industry-savvy cats who know enough to ensure that they can have their cake and eat it too.


Or maybe they just understand that people are people, whether the Spirit dwells in them or not, and as long as the music is good, everybody will listen. FLYNN hints at this, saying that only the t-shirts are different when they play secular shows. "And the non-Christians say the real 'F word' instead of 'freakin,'' he says. "Those are the main differences, I guess."

And, increasingly, Christians are more discriminating in their taste. The days when believers would unblushingly buy anything as long as it didn't have swearing on it are dwindling. "They will not hesitate to [revoke their] support [of] a group if they think they're wack," Cookbook points out.

"Wack" is probably the best adjective to describe what most Christian labels offer. The best evidence for this is in the CD players of the rappers who make it. Toby McKeehan readily admits that he doesn't go to the local bookstore when he's looking for new tunes, but the section at Wal-Mart where the "clean" versions of mainstream hits can be found. FLYNN seems no different. Asked if what producers he'd like to work with (if money were no object), and he pulls out names like Dr. Dre, the Neptunes and Timbaland—no mention of Todd Collins (dc Talk, GRITS) or the various other beatmakers who populate holy hip-hop.

But hopefully L.A. Symphony will help change all of that. While some tracks on The End is Now do little to advance the art form, there are also moments that border on brilliant. Joey states that the mission of L.A.S. is to "affect culture and give this world an alternative to nonsense." They'll do it primarily as a fivesome rather than a group of eight, but, God willing, they'll do so much more than that. They'll not just affect culture but help transform it. They'll tap into the potential that has made them one of the most-hyped Christian acts in recent years, and we'll look back on today not as a conclusion. We'll see that it was only the beginning.