THEMUSIC






CURRENTS






SEARCH






cMUSICMAIL





The following tale is not a new one. It's about a boy with a dream who worked hard to make his dream a reality. Along the way he's had his tussles and his setbacks—times when it would have been easy to quit, easy to despair, easy to do something other than his calling. But by God's grace he has kept fighting and has grown into the artist that he is today.

That outline may lead you to believe that this story is like the thousand feel-good movies you've seen in your lifetime or maybe even remind you of the testimonials given by the latest American Idol stars. If that is the case, please cleanse your mind. This is real life, and real life is seldom found on your television screens.

Simply put, this story is one of subtle redemption. As you follow Jeremy Casella's journey from a musical infant to a maturing songwriter/guitarist, you will catch glimpses—sometimes panoramic—of God's hand working His grace in this musician's life. Over the hills and through the valleys, God has been faithful in keeping Jeremy faithful and has blessed him with the ability to communicate what's he learned in ways that bless us listeners in return.

What you are about to read was adapted from a chat session I had with Jeremy a while back. The only changes I have made are minor and concern punctuation and grammar correction; otherwise, the story is as he told it.


I have been writing, recording, and touring for about four years now. I got started in high school I guess. I was playing music in various bands in school and youth group. I started playing guitar when I was in fifth grade, and ever since then I've been hooked. I've known I was a musician since I was a kid. I always loved singing and was fascinated by my parents' records and stuff. I discovered The Beatles in high school, and that was what made me think I could try to write my own stuff. I had a songbook of Lennon/McCartney tunes, and I saw that they were just basic chords with amazing melodies, but they were made up of chords I knew how to play. So I dove in and started writing my own stuff.

After high school I ended up at Purdue University for a year studying history. I loved it, but Purdue had no music scene at all, so I split and moved to Nashville to study at Belmont [University]. All during this time I was writing and playing with friends. My songs were not good at all, but I was like a child learning to speak a new language, if that makes any sense. I think it takes a few years to learn how to speak lyrically.

Once I got to Belmont, I found just what I was looking for ... everything except college! Which is ironic because I actually hold a degree from the place, unlike many of my close friends who dropped out. I learned a lot just by listening and talking to so many musicians and songwriters. When I came to Belmont, Andy Gullahorn and Jill Phillips were the thing. They blew me away. It was an environment where all this music and creativity was happening outside of the classroom because there was so much talent there, and a lot of young, enthusiastic people. And I was scared to death really. I had no self-confidence and very little experience compared to a lot of people. So I have had to work on that ever since ... just that feeling of not being good enough or being "found out" as a fake or something. That's the thorn in my side I think, because I struggle with it even now, to be honest with you.


So Belmont was good to me, although I hated school and just wanted to get out there and start my thing. In 1999 I graduated and didn't look back. I stayed in Nashville, though, because all of my friends were here and there was a lot happening here that I wanted to try and stay plugged in to. Shortly after that I made my Alive Inside record and started touring that wherever I could find gigs. That was a fun time for me because I got to know The Normals, Bebo [Norman], Andrew Peterson, and Phil Keaggy, all while opening for those guys. Phil has really become a mentor and friend to me, which is one of my greatest treasures. The Normals have since become wonderful friends and stuff. Really, all of those guys I've remained tied into either personally or creatively, and I've learned a lot from them. That is my secret: I think there is something to learn from everyone, so I try to work with folks and see their take on things and try to add that color to my palette.

[Cason Cooley, of The Normals] is one of my close friends, and we talk all the time about the creative life and what it means to use our gifts to the fullest. I have never felt fully aware of my creativity, mainly due to being the only "artsy" guy in my family. My brothers are all talented athletes and I sorta stick out. They love me, so that is all that matters, but as far as being a creative type I've found myself craving instruction and mentorship along the way. So that is another thing that has grown in the past few years. I have surrounded myself, by God's grace, with older guys who just know a ton about being artists and serving God. Kevin Twit (Indelible Grace), Phil Keaggy, Monroe Jones, David Schober, Greg Sparks, my co-writing pal Scott Brown, Father Thomas McKenzie, my friend Al Andrews ... guys like that who live here in town that I can glean wisdom from.


After the Alive Inside record, I found myself with a lot of new material, about two records worth of songs; the original idea was to record a "rock" record and an "acoustic" record (whatever that means!). Anyway, I started thinking that maybe I could pull a few songs together and try to pitch them to labels here in town to see what they would say. So my manager hooked me up with Josh Moore [of Caedmon's Call], and we recorded three songs as demos. (These demos would be separate from what would become Faith & Heartache.) Josh and I really hit it off. He is a talented dude. His instincts are unreal and he is a consummate musician. I love him a lot.

So we recorded these tunes and started shopping them. My manager and I met with some labels, and there was some interest, which felt great to be honest with you. After three years of hitting it hard on the road and selling albums out of my trunk, it feels great to get attention like that. But the only real option that appealed to me was working with Monroe Jones: we just clicked. I will tell you why Monroe works on so many records. He is a fan of the music. Whether a record turns out great or not is largely situational in terms of the songs and the artist, but as far as Monroe goes, he gives it 100%. He's a believer. He believes and makes you feel like you should/can believe too. Plus, he is r-e-a-l.

So once Monroe and I started talking, I felt like he was the right man for the job and he believed in me and wanted to develop me. There's not a lot of development for artists these days. Labels tend to throw you away if you aren't delivering for their accountants after the first record.

While Monroe and I were talking and then negotiating my record deal, I was in the studio making Faith & Heartache. I knew that those songs weren't commercial, and that the label wouldn't be interested in them, but I wanted to have them on record somewhere. So BJ Aberle [of The Normals] and I went into the studio for about six days with some of my friends, and we just laid the songs down as performances. Then we did the overdubs in four days after that. So the whole record was really recorded in 10 days. Making that album was a great experience for me. I got to work with Ben Shive (Andrew Peterson), Will Sayles, Cason Cooley, Andy Osenga, and other folks. On a personal level I was coming out of a pretty dark place; a failed relationship basically. I could tell you all about it, but it's really in the songs. Well, a few of them. But what I learned is all in the songs.


Faith & Heartache released in January 2003 and I started touring it. I hit the road with Ian Fitchuk on keys playing with me at solo shows. They went really well, and the record was well received which was very encouraging to me.

As the spring came, I started settling into plans for my upcoming record deal. Lawyers calling each other, meeting after meeting with management and label stuff. It was totally vibeless but still very cool. Details of business stuff are so important, but I have to muster the curiosity to ask the hard questions and get things addressed. And they were. Learned a lot too.

And then ... on a magical day last July ... we started working on my first national release. It was awesome. Big budget, amazing producer, great players (my friends mostly), and the future looked bright. The songs felt great; the performances were true and full of energy. I remember feeling at the time like I was really pushing hard against the glass, breaking new ground creatively and just feeling so supported by Monroe and how everything was sounding. It is the best record I have made so far, I think. It's mature or close to mature. And we worked on it forever ... like four months, which is long for me.

We turned it into the label in November, and everyone was loving it. They even threw a little lunch party. While we were eating lunch and chatting with record label people, the record was playing in the background. It felt like people were into it and that they were ready to push it into the market place. And they were.

Well, the next thing we needed to do was start meeting with the marketing people. They have to come up with a plan for how they want to market the record. They like to set a record up for months before they release it—try to build a groundswell of interest.


Universal South / Eb+Flo is not a Christian label in the typical meaning of the word. Actually, the only tie-in to CCM that they have is Monroe's experience in the genre and a business agreement Universal had made to have their CCM-oriented records marketed through Sparrow Records's marketing department.

So we took the record over to Sparrow one day for a meet-and-greet sort of thing. I played a few songs, answered questions, tried not to say anything stupid or say any swear words, and just meet the folks who were going to market me. I was entirely uneasy the whole time. I am not a very ... um ... I am not a very tactful guy sometimes. And I am not proud of it, but it is how I can be, I guess, when I am uncomfortable. So there I was in the Sparrow offices. And they were nice to me. They gave me free Cokes and introduced themselves; they seemed to like my songs.

A week later they called Universal and said, "We're not sure what to do with the Jeremy Casella record. We don't hear any singles that we can do anything with." So they decided not to work the record. Which was a shock to me, since one of the main reasons I signed with Uni-South was that they told me that they had firm agreements to work with Sparrow's marketing to take CCM stuff to the CCM world. So that was the pipeline. What was communicated to me was that Sparrow had no option, that it was an agreement. But that was not true: the situation had been misrepresented to me. Everyone at Uni-South was surprised. So was I. So was Monroe. But that was the deal.

So the record is done, mastered, and sequenced. They spent all this money making it and signing me, and now they have no way to market it that they feel comfortable with. So now they are trying to sell the record to another CCM label. There are people who are excited about it, so I just have to wait and see what happens from here.

It's been a huge learning experience and a great lesson in music business stuff. But here's the kicker ... there is a buzz about this record! Before Sparrow pulled from things, Uni-South had started to lay the groundwork for radio promotion by contacting a bunch of freelance radio guys. They sent them all copies of the record, and they all were very into the record. More than a few of them called back to say that there were a lot of singles that they thought radio would eat up. Monroe still gets calls from some of these folks, and they say stuff like, "Once you find a home for this album, I have to work it! I love it! It's so different from what is out there right now and I think it could do really well." So that feels good.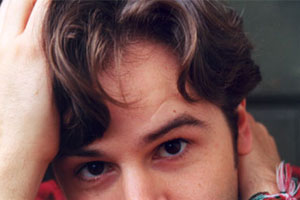 It helps fuel the car, the passion that people share for the music that they love. And it has really given me a great perspective. Here's what I mean: I have many favorite bands/artists. Over The Rhine is one of them. Great band. They made four records before they really "became" Over The Rhine. Good Dog/Bad Dog was where they really came into their sound and were just transformed completely into the artists that they have become. Amy Grant gave this interview one time that I read. She said, "Life is a process." I agree. So I am just going to keep making music, touring, writing, recording, and meeting new people. Learning new things.

I met this guy named Hugh Hewitt who told me that I shouldn't be so hard on myself since I am only 27 and that my real career/creative life begins at 30. My 20's have been great, and I have learned a lot. I feel like I am being equipped for something, gearing up for what God has for me to do. So I am looking forward to the future. I think I am starting to zero in on my identity as an artist and finding my voice as a singer and lyricist, as a guitarist and songwriter. So it's been great.

I love that we never stop learning. And that God shows us more of Himself through everything we experience, good or bad. Most of the time it is through the bad since we are so comfortable when things are good. Suffering is key to the Christian life. No way around it. So after a while, you start accepting the fact that God has your best interests in mind because He loves you and is making you more like Himself every second of every day. He has to work the good from the bad. He has to. Otherwise, He would be a liar. And God doesn't lie!

I am grateful that people are interested in my music. That's a real gift, and I never want to take it for granted. My best stuff is yet to come. I can feel it. God has a plan, so much bigger than me. He is actually destroying me in the process, so it will be interesting to see what He wants to do. I have learned a lot of painful lessons. Stuff I have done and not done. Issues of my sin and how God can turn my pain on its head in order to glorify Himself. I am not sure how long the Lord would have me do this music, but I know I have a ways to go yet.

And that is where our story ends ... for now. As with all stories, there is still more to come. Currently, Jeremy is in the midst of more lawyer talks and business meetings. When will they end and what will the conclusion be? Only God knows, but we do know that He is faithful to His promise of working all things together for our good.

Thankfully, Jeremy's future is not bound up in his record label meetings and hassles. He recently announced that he is engaged to Kierstin Berry (of Grassroots Music Magazine fame), and that they plan on getting married this September. Our congratulations and best wishes to the happy couple.

Things are busy on the music front as well. At the moment Jeremy is working on a five-song EP to be released on his website sometime this summer. The plan is to have each copy individually stamped and packaged and to print up around two thousand copies.

His official website will also be re-launched this summer with a new focus on creating a community. In Jeremy's own words, "My new website will be central to everything I do from this point on, second in importance only to my records." Stay tuned to www.jeremycasella.com to see Jeremy's intentions come to fruition.

For more information on Jeremy Casella and his releases, please check out his official website and our own coverage of his music.