THEMUSIC






CURRENTS






SEARCH






cMUSICMAIL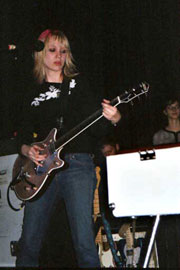 I was sitting on the edge of the stage after a concert when two girls came up and asked the guy sitting next to me for an autograph. "You're the big rockstar now, huh?" I asked him. He smiled, guffawed, and with the tone of every teenaged boy I've ever heard replied "Whatever." It was Weston DuPree, drummer of the band now known as Eisley.

My first encounter with Eisley (then known as Moss Eisley) was back in October of 2002. They were late to the venue due to problems with the "Moss Mobile" and though they had no time for a proper sound check, they still amazed me. Three blond girls were playing two guitars and a keyboard in the front, with a fellow on drums and a guy with a lot of hair playing bass. They were about ten feet in front of me, and singing the most melodic, lilting songs I could imagine. I could only make out a few of the lyrics, but they took me out of the hot amphitheater and placed me in cool forests, warm beds, and mystery lands that had no distinguishing features save sparkles and magic. I wax poetic, but all the same I was in love.

I found out later that the three girls and the drummer were siblings, and the bassist was a long-time friend. Chauntelle, (guitar and unmic'd vocals) is only 22. Jon Wilson (Bass) is 20, Sherri (vocals and guitar) is 19, Weston (drums) is 16, and Stacy (vocals and keyboard) is barely 15. It's definitely a family thing, with Dad Boyd faithfully assisting the band with all their shows and reporting all the goings-on to their exponentially growing fan base.


Perhaps the thing that sets this band so far apart from other bands (besides the uber-creative sound) is the Eisleian ability to pull you in to a world that is different from the everyday scene, but somehow relevant and familiar all the same. Like a black hole it's impossible not to get lost in it. One song speaks of rejection ("Go cry, go run away / let your short legs carry you away / with your big dress and dirty hair / your pen's waiting for you... I'm just like you I know you know / I'm just like you so leave me alone.") and another will speak of anger and argument ("Let's not fight / That's not nice / Let's not be sore / That's not right... So hold on / hold on to the ones you love"). They warp me back 12 years to a time "when I was a young girl trying to find a way above the tree tops, the tree tops…" They sing truth that cuts right to the softest parts of my soul: "I love the way your hand fits so nicely in mine / I always screw up. Wonder how You sing to me / There's One who cares for me today..." There seems to be no limit to the ways
the lyrics dance around and move me in a strange and wonderful way. It's obvious that they are gifted beyond reason.

With all their present (and imminent) success, they keep their focus to "Invade culture and shine." There is a lyric in an Eisley tunes: "With lightbulbs in our pocket / We'll light this darkened forest." A local magazine once quoted Chauntelle: "My dream is that [Eisley] will be able to help paint a new picture of what Christianity should be like... or how God really is. Not just through our music, but through our lives. I'm sure we'll all screw up miserably trying to get there, but that is what's in our hearts. If the only thing we can do is to love people, then that's a start" (Origin Magazine, June/July 2002). God bless this group. Help them to Shine. Help them in all the darkened forests that grow before them, and guide them in all that they do.