THEMUSIC






CURRENTS






SEARCH






cMUSICMAIL




As the 25th year of Creation rolled around, we decided to find more about this festival. We talked to Harry Thomas, co-founder of the Creation Festivals, now held on both the East and West Coasts, all about how the festival came to be and how it keeps going.

cMW: Tell us about how the Creation festival got started.
Harry Thomas: Creation really dates back to 1971 and maybe even a little further back in some ways. But in 1971 I really felt the Lord's prompting to pray as I was driving thru New York City and I pulled over, it was on one of the Thruways, and I began to pray and I caught a little vision of thousands of kids on a hillside. I did not pay much attention to the hillside aspect of it. To me it was saying to reach kids, you know. At that time I was pasturing and as I was pasturing I kept feeling more and more inclined to reach kids with youth music, which at that time was called Jesus rock music. It was coming out of the Jesus movement. So I felt led to start a radio program and it was called the "Come Alive Show." And it started out on a little AM radio station and interestingly enough, this church that we are in right now, Fountain of Life, owns that radio station that I started out in many years ago. Then thru that I really began to hone some radio skills and felt that it was time to launch out into radio. So I left my pastorate and started a radio show called the "Come Alive Show" only this time it was on national stations. I was on CBS affiliates in Philadelphia and New York City and a lot of different secular stations. I ended up being on about 50 secular stations. A couple college stations, too. During that time, trying to make a long story short, I started to bring in some of the artists that I was playing on the radio. In those days it was people like Randy Matthews, Larry Norman, Andrae Crouch, 2nd Chapter of Acts, Chuck Girard. And one of those concerts, a guy named Tim Landis was involved with and he came down to a show that was held in Haddon Heights, New Jersey. After the show, we got talking, and he said, "I don't have any place to stay tonite, I am a little tired to drive home. Do you know where I can stay?" I said, "Come on over to my house." So Tim came over to my house and at my kitchen table I found out that we had a similar desire to reach youth and we both had a desire to do a larger event, a festival. At my kitchen table, we named it the Creation Festival and that was the beginning, in 1978. The first festival was in 1979.


cMW: As you prepare for the 25th Anniversary of the Creation festival, would you say that it is today what was prayed about at that kitchen table?
HT: I'd say it has gone beyond what we had any vision for. I told you I had a vision of thousands of kids on a hillside. I felt that was fulfilled really in 1979. There were 5,000 or so people there and I would have been content then. But the Lord wanted to go beyond that and each year we would pray and ask if we were going to do the next year. I'd say it has gone beyond that because during the course of the summer, between the two festivals, East and West, we'll see 100,000 people come out, most of them young people, and we'll see an enormous number of people make commitments. That is really beyond anything I ever expected. God certainly had given us grace to do that.

cMW: I helped volunteer at the Prayer tent one year and spoke to many people who made decision, and that was really a blessing! Other than a change in venue and a change in the number of people that attend each year, what else has changed since that first Creation festival?
HT: Oh, a lot has changed. The one very basic thing is that we moved from our first site to Agape Farm. We have made a lot of improvements in the site. I think the crowd has changed. I think you have a much more in tune crowd with music. It used to be that we were introducing bands. Now people know the bands and they want to come hear the bands, their favorite band is there, whatever. People who come are more into the music than ever before and the different kinds of music. It used to be sort of one style when we started out. It was Rock. Now you have Hip-hop, now you have Rap, now you have all these alternative bands. So it has really changed a lot musically. One thing that has not changed is that we have consistently thru the years honored the Word of God. We have done that thru seminars and thru teaching from the stage and thru altar calls. We have thankfully remained very consistent in that. We don't want that to change. The message is always the same, but bring it up to the way kids understand it today.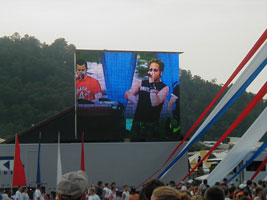 cMW: There are a lot of summer festivals. It seems new ones pop up every year. What is different about the Creation festival?
HT: There are not very many, there may only be a couple, that take the focus that we have. And the focus is to get people away. Even on the west coast, in the northwest, we get people away from the noise of the cities. There is no amusement park. It is more like a gigantic retreat. It is kind of the authentic festival in that there is camping, you are roughing it, and you are there with thousands upon thousands of people out in the middle of nowhere. This community develops over those days. It starts out on Wednesday night and everybody is all excited. By the time Thursday comes, things are settling more, people understand why they are there, and when Friday comes, there is more of a family feeling, and then Saturday comes and nobody wants to leave. Now, nothing against other festivals, but ones that are held near the city, people just pop in and out. Ones that are in theme parks, the speaker is competing with the roller coaster. We find that youth leaders love Creation because it is a time when they can really meet with their kids at the camp fire or whatever is happening, and go away with a real religious experience. Not just go away and say, "I had a great time, I went on the water slide."
cMW: I know what you mean by the progression from Wednesday to Saturday. I have come some years only for a couple of days, and I arrive on Thursday night or Friday morning and everyone is all into it, and we just got there and feel like we missed something.

HT: That's right, and the people who get the most out of it are the people who work there straight through.

cMW: I have been a volunteer staff at Creation for about 5 or 6 years. What would you say to people to encourage them to be a volunteer?
HT: I think that is the point I was just making. People who work at the festival have ownership of it. They feel that they are a part of it. Everything that takes place on the stage, or every person that accepts Christ, they have a part in it. Even if they are just parking cars, that is a real ministry - parking campers or parking cars, or working security. Any number of jobs that are there are beneficial to the person who serves. They will find that really made it for them. That's what I hear over and over from staffers. "I can't wait until next year to do it again." Thankfully we have a lot of veteran staff. That's what helps the festival run smoothly, too. They know their jobs, they know what they are supposed to do, and they love doing it.

cMW: I guess when you first started out, they did not have Christian radio stations?
HT: When I started, there were not any Christian radio stations that were playing the kind of music that I felt kids related to. At least not in this area. There were some stations starting out on the west coast that were starting to do that because of the Calvary Chapel/Chuck Smith and the influence out there. Buy by and large, people thought anything that approached Christian Rock music was of the devil. And not something that they wanted to be a part of. You could barely find the music in the stores. What was happening, though, was the kind of thing I was doing on the radio show on secular stations.


cMW: A lot of these bands that play at Creation play in the mainstream. They are considered Christian bands and I know that many would not want to be separated - Christian versus mainstream. What do you think about the separation of mainstream versus Christian music?
HT: I am always happy when Christian music crosses over. What would make me unhappy is if a Christian band trying to use the Christian market to get themselves into the secular market. And it has happened. It's an entirely different thing if the secular market says, "Hey this is a great band, let's put them on." Like P.O.D. and others. I am glad for that as long as their lyrics are good and wholesome, and they talk about Jesus, I am in favor of it.

cMW: Years ago, a lot of the songs were obviously about Jesus. There would be a high "Jesus Factor." Now there are a lot of Christian songs with good lyrics, but it does not have the "Jesus Factor." What do you think of that?
HT: I believe that music can edify or tear down. But part of our job as a Christian is to build up and edify people. Not every conversation I have is one that incorporates Christ's name. But I might be encouraging someone. If we are talking about love, as some of the bands might be doing, they should talk about it as Jesus might be talking about love. The perspective of where they are coming from is the most important thing. If they are just saying the same old things that the rest of the world is saying, like it is immoral or does not fit a Christian, then you won't see them at the Creation festival.

cMW: As we discussed earlier, there have been a lot of changes in the musical styles since the first Creation festival. What comments do you have about the changes?
HT: For one thing, I think you have to remain current to keep the young people's ears. And what has killed some festivals in the past is that they have said, "We are not going where the kids are going. This is the music that they should listen to." And it's kind of a broad question, but one of my strong feelings is that it is important to translate the gospel into a language that kids understand. We spend all this money to translate the gospel in languages around the world, which we should do, and send people out. And so I think that it should carry over into people translating the gospel into a language that kids can understand today. And if that happens to be Hip-hop, then let's translate it.

cMW: I like that concept.
HT: If you study the history of Christianity, you will see that music is one of those major transfer items that brings the gospel into the next generation. Yes we have the Bible that will never change, but we even update the Bible. We translate into a language of today. But when you look at history, music has been one of the main carriers of the gospel from one generation to the next. That is why people who hold so tightly to the music that affected them when they first became a Christian. If it was Bill Gaither, they do not think there is any other music. Bill Gaither's Homecoming is selling out venues to the people in that age group who grew up with them. The same thing will be happening with Third Day 15 to 20 years from now.
cMW: (chuckling) Third Day Homecoming Tour. Interesting!
HT: I'll have to tell Mac that I said that!

cMW: So what will you be doing this year to celebrate the 25th Anniversary?
HT: Well we are doing some fun things. A novel idea we are having this year is to celebrate Christmas at Creation to celebrate the Savior's birth.
cMW: Ah yes, we are already making plans for that!
HT: People are going to be lighting up their campsites. It is going to be very celebratory. It is going to be fun. We are also planning, and I trust that everything goes well. It is a big undertaking. We are planning a praise parade. Quite a bit more elaborate than anything we have done in the past. I am not going to say a whole lot about it, but Lord willing, weather permitting, there is going to be a Praise Parade. Then we are also bringing back a couple of folks from the past. One that I am very excited about, who is doing it as a special favor to us is Steve Taylor. And though he is only doing a short set, it is Steve Taylor. He is brilliant and we love him. And Randy Stonehill is coming back. And we will bring about some memories of the past.
cMW: You can't share them yet?

HT: No, we are still working out how we are going to go about doing some of these things.

cMW: What would you say to our readers who are on the fence trying to decide whether or not to come out to Creation?
HT: I'd say what we always say. It could be the highlight of your summer, and maybe your life. We believe that when we come together to pay tribute to our Creator that He will show up and there is going to be changes that will take place in all of our lives. I know I never go to a Creation festival without it touching my own life. Without God saying something to me, or God encouraging me in some way. I get the privilege of hearing just about everything that happens. I think it would be good as an individual to come, as a family, church youth group. Year after year we get letters from Pastors who say that Creation is where the youth group makes decisions for Christ, or where they were baptized. I go around the world quite a bit and I run into missionaries all over the world who made life-changing decisions at Creation. Or in the mall. It is just amazing how many people have been touched. And I give God all the glory for that!


- Kim Flanders
May 2003