THEMUSIC






CURRENTS






SEARCH






cMUSICMAIL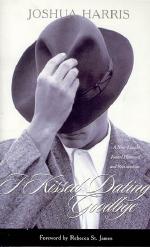 Truly the voice of our generation, Josh Harris, a homeschooler, former editor of a youth magazine, conference speaker and now author, brings us his insightful and revealing book on "A New Attitude Toward Romance and Relationships." At first glance, the title may sound typical of the isolationism practiced by many well-meaning sects of the church. Proven to drive teens to an extreme rebellion, this ideology is not grounded in Biblical truth, but the fears and severity of people wanting to be neither in nor of the world. Such is not the perspective of Josh, who readers discover is an average guy who speaks today's language, and realizes how complex emotions are.

Starting with the premise that there are, in fact, absolutes and that right is not determined by our feelings, Josh makes his case for Christ-centered relationships. Story after story of wounded hearts, broken relationships and shattered dreams speak for themselves the danger of basing our friendships with members of the opposite sex purely on physical attraction. Yet, he stresses, we aren't to isolate ourselves in our own little world--friends both male and female are a vital part of staying accountable, and living a well-rounded social life. While he readily admits that every mind and heart is different, our paths cross in the same ways, and we face the same dangers and compromises every believer is tempted with. There's no formula for relationships, but knowing the pattern of past mistakes helps when we face the same situations every day.

Neither condemning nor particularly affirming, I Kissed Dating Goodbye challenges us with the simple mystery of truth and the exciting freedom of grace. In light of God's view of purity and commitment, you'll see your life in a whole new way. For Josh, the book's author, the principles of this book worked: he is currently married and a pastor in Maryland.